If you want to read the english text, klick here...
Oktober 2016 - Terex setzt die strategische Neuausrichtung des Bereichs Materials Processing fort, um damit auch die spezialisierten Fuchs Materialumschlagmaschinen weltweit noch erfolgreicher zu vermarkten. Damit ging kürzlich auch ein Rebranding der Marke Fuchs einher.
---
Bauforum24 TV Video (09.06.2016): Fuchs MHL345 Umschlagbagger - IFAT 2016
---
If you want to read the english text, klick here...
"Fuchs – A Terex Brand" sorgt in den Hauptabsatzmärkten für eine einheitliche Wahrnehmung der Marke Fuchs. Gleichzeitig wurde Fuchs in den Bereich Terex Materials Processing eingegliedert, was strategisch eine noch bessere Einbindung in das Terex Produktportfolio ermöglicht. Ergänzend dazu wurden im ersten Halbjahr 2016 auf internationalen Messen, wie der ISRI in Las Vegas oder der BAUMA und IFAT in München, neue Maschinen vorgestellt.
"Die spezialisierten Fuchs Umschlagmaschinen sind wesentliche Bestandteile der langfristigen Terex Unternehmensstrategie und eine ideale Ergänzung in unserem Bereich Materialaufbereitung," sagt Kieran Hegarty, Präsident von Terex Materials Processing. "Wir beabsichtigen, das Geschäft von Fuchs weltweit, über den traditionellen Bereich Schrott hinaus, auch in den Bereichen Holz, Recycling und Hafenumschlag auszuweiten."
Bezugnehmend auf die kürzlich erfolgten Maßnahmen zur Stärkung des Kundenservice im Bereich Umschlagmaschinen sagte Ron de Vries, Geschäftsführer für Fuchs weltweit, "In Verbindung mit dem Übergang zur Materials Processing, haben wir Jon Van Ruitenbeek zum neuen Leiter für den Geschäftsbereich Fuchs in Nordamerika ernannt. Zusätzlich haben wir angekündigt, weitere Management Positionen im Vertrieb und Service in den Hauptmärkten zu besetzen, um noch mehr Kundennähe im Vertrieb und besseren Service durch den Hersteller bieten zu können.
Daneben bauen wir den weltweiten Vertrieb weiter aus, damit unsere Kunden auch vor Ort von noch schnellerem Service und Ersatzteilsupport profitieren."
Die verstärkten Investitionen in die Entwicklung neuer Fuchs Produkte hat eine Reihe neuer Modelle und Neuheiten hervorgebracht. Zwei komplett neue Maschinen wurden erst kürzlich vorgestellt: die Fuchs MHL390 F und die MHL370 F. Damit haben Kunden im Materialumschlag nun noch mehr Optionen für ihren Bedarf.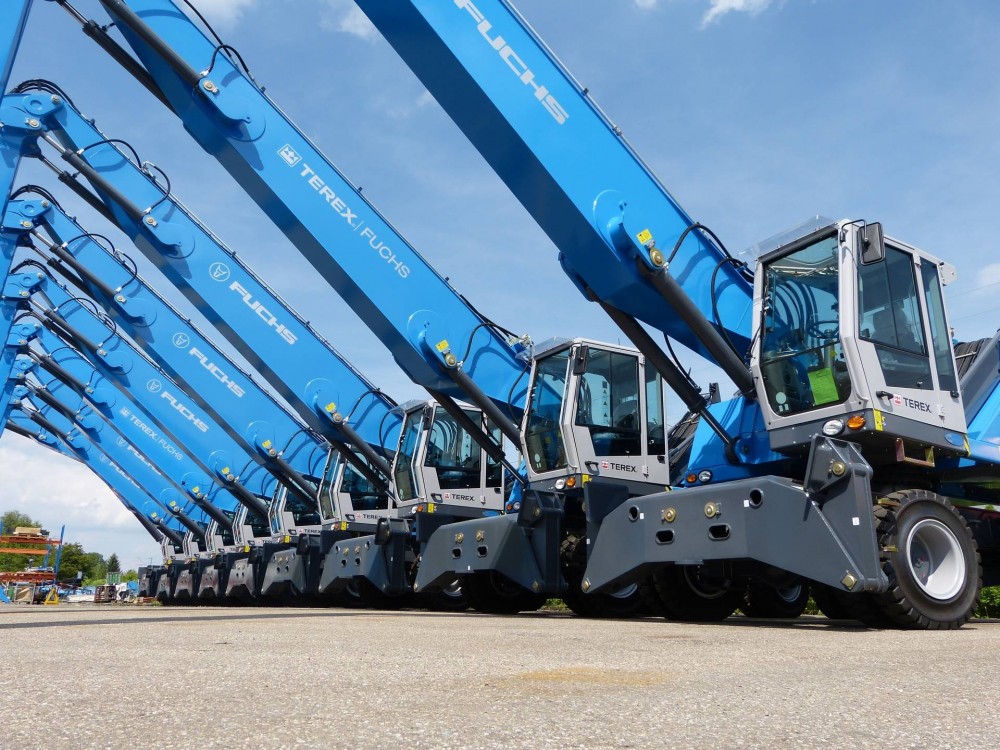 Fuchs Materialumschlagmaschinen mit altem und neuem Branding
Gebaut für große Reichweiten und hohe Traglasten die heute im Hafenumschlag weltweit gefordert sind, bietet die Fuchs MHL390 F Einsatzgewichte von 76,2 bis 87 Tonnen. Durch die großen Abstützpratzen bietet sie hervorragende Standsicherheit, auch beim Heben schwerer Lasten bei bis zu 24,5 Metern Ausladung. Eine optional erhältliche Konfiguration mit gekröpftem Ausleger erlaubt der MHL390 F auch den effizienten Einsatz beim Be- und Entladen von Schiffen im Hafenumschlag.
Die neue Fuchs MHL370 F als Maschine der 55-Tonnen Klasse ist die Antwort auf die hohe Nachfrage in der nordamerikanischen Schrottindustrie nach Hochleistungsgeräten in der Beschickung von Mega-Schreddern. Die MHL370 F bietet höhere Traglasten als die kleinere Fuchs MHL360 F und die hydraulisch hochfahrbare Kabine erlaubt dank der Sichthöhe von bis zu 6,10 Meter und der Ausladung von 2,20 Meter nach vorn, eine perfekte Rundumsicht auf das Arbeitsumfeld – besonders wichtig im Hafenumschlag.
Auf der IFAT in München stellte Fuchs auch einige Updates an der erfolgreichen MHL320 F vor. Die Maschine ist das optimale Einstiegsmodell für industrielles Recycling, Abfallwirtschaft oder kleinere Schrottbetriebe wo hohe Traglasten bei großen Reichweiten für effiziente Sortier- und Verladearbeiten gefordert sind – Anforderungen die nur eine darauf spezialisierte Umschlagmaschine erfüllen kann.
Daneben wurde auf der ISRI in USA erstmalig das komplett neue Fuchs Kabinendesign gezeigt. Die Kabine wird ab dem 1. Quartal 2017 ausgeliefert und bietet mehr Rundumsicht durch größere Glasflächen, eine neue Joystick-Lenkung für leichteres Rangieren und mehr Bedienerkomfort durch deutlich mehr Platz in der Kabine.
Fuchs Application Center – Sonderlösungen für individuelle Anwendungen
Ein Eckpfeiler in der Terex Wachstumsstrategie für die Produktbereich Materialumschlag ist das Fuchs Application Center im Werk Bad Schönborn. Hier arbeiten die Spezialisten von Fuchs Hand in Hand mit dem Kunden um spezifische Einzellösungen für seinen individuellen Bedarf zu liefern.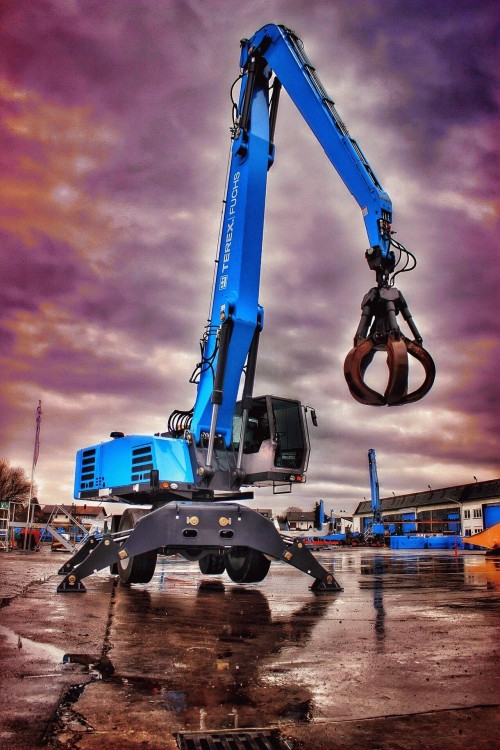 MHL370 F Umchlagbagger mit Terex Fuchs Logo
Neben den Serienmodellen aus dem regulären Fuchs Lieferprogramm, bietet Fuchs seinen Kunden damit die Möglichkeit, jede Maschine genau auf ihren individuellen Anwendungsfall maßzuschneidern. Ein Fuchs Expertenteam aus Vertriebspartnern und den Ingenieuren des Application Centers arbeitet eng mit dem Kunden zusammen für genau ein Ziel: Eine maßgeschneiderte Maschine als beste Lösung für die ganz spezifische Kundenanwendung.
Die Fuchs Sonderlösungen basieren auf den Fuchs Standard Komponenten als Grundlage für ein modulares System. Dies ermöglicht den Konstrukteuren eine breite Palette an Modellen für unterschiedlichste Anwendungen zu entwickeln. Der Kunde kann dabei immer auf die gleiche Zuverlässigkeit und Leistung wie bei einer Fuchs Serienmaschine vertrauen. Neben den zahlreichen Serienoptionen kann das Application Center eine Maschine entweder mit Mobil- oder Raupenunterwagen bauen. Ebenso kann der Diesel gegen einen Elektroantrieb ersetzt werden, mit einer entsprechenden Zuleitung, die genau zum Kundeneinsatz passt. Genauso kann die Maschine mit einem Pylonen zwischen Unter- und Oberwagen in verschiedenen Höhen ausgestattet werden, für bessere Übersicht. Sollte ein stationärer Betrieb sinnvoll sein, so kann auch das durch einen entsprechenden Umbau im Application Center realisiert werden.
"Dies sind spannende Zeiten für Fuchs," meint de Vries über die Expansion von Fuchs und die von Terex unterstützte Wachstumsstrategie. "Das Fuchs Team wird entscheidend gestärkt, die Vor-Ort-Betreuung wird durch das wachsende Vertriebsnetz weiter ausgebaut, unsere Produktpalette für Umschlagmaschinen wird weiter ausgebaut und aktualisiert, die Maschinen werden bedarfsgerecht an die individuellen Kundenanforderungen angepasst. Es ist ein guter Zeitpunkt eine Fuchs Umschlagmaschine anzuschaffen."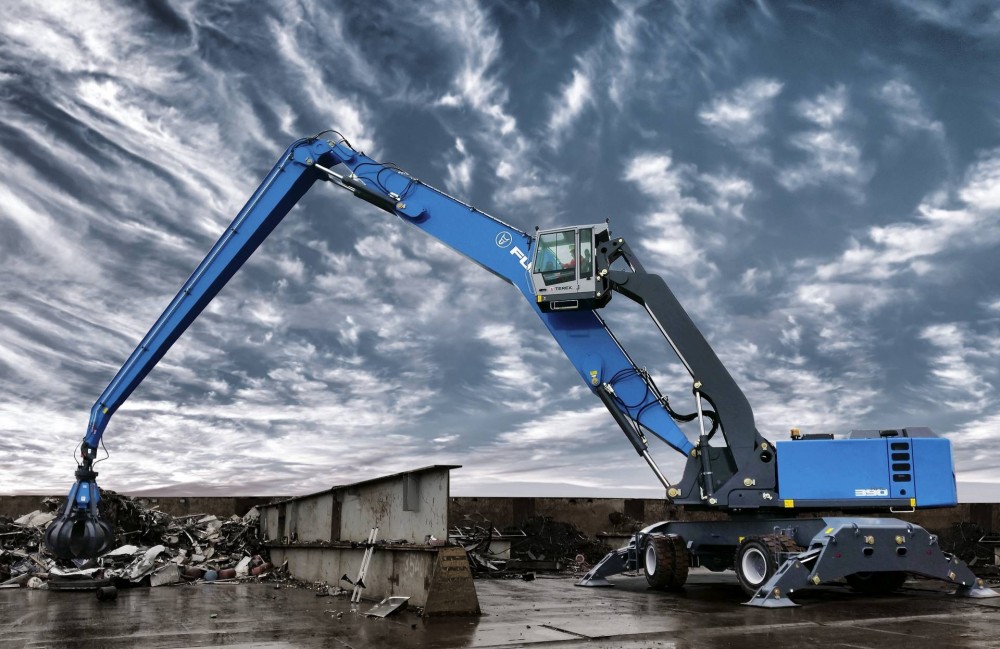 Fuchs MHL390 F Umschlagmaschine
English Text:
Strategic move aligns Fuchs material handlers with Terex Materials Processing segment
Terex Materials Processing continues to implement a series of strategic moves and investments to better position its purpose-built Fuchs material handler business for global expansion and sales growth. Recently, the business was rebranded
"Fuchs – A Terex Brand" in key markets for consistent global brand recognition. The Fuchs line also transitioned to the Terex Material Processing segment, which is a better strategic fit for the business within the broader Terex portfolio. Additionally, multiple new machine introductions were made at key international trade shows during the first two quarters of 2016, including the ISRI 2016 Convention in Las Vegas, Nev. and Bauma and IFAT 2016 held in Munich, Germany.
"The purpose-built Fuchs material handlers are integral to the long-term Terex business strategy and a natural fit in the Materials Processing segment," states Kieran Hegarty, President of Terex Materials Processing. "We intend to grow and expand the Fuchs business globally beyond the line's traditional scrap markets into such markets as timber, recycling and ports."
Commenting on several recent strategic sales and support actions taken to increase material handler customer support, Ron de Vries, General Manager for the Fuchs business globally, said, "In conjunction with the transition to Materials Processing, we appointed Jon Van Ruitenbeek as the new Business Line Director for Fuchs in North America, and we have announced several key sales and support management appointments for key North American and European markets, which will give Fuchs more interaction with customers during the sales process and provide customers with a higher level support from the factory.
Additionally, we are continuing to focus on growing distribution globally, so customers will experience more responsive service and parts support locally."
Accelerated investment in Fuchs' new product development with a number of new initiatives has resulted in multiple announcements of new models and model upgrades. Two completely new model class designs recently introduced – the Fuchs® MHL390 F and MHL370 F – give customers more material handling options to fill a wider variety of application needs.
Designed to deliver the long reach and high lift capacities required in port applications globally, the new Fuchs MHL390 F handler boasts operating weights ranging from 76.2 to 87 mt (168,000 to 191,800 lb). It features a broad outrigger base to provide excellent stability when lifting heavy loads at extended reaches of up to 24.5 m (80.4 ft). An available banana boom configuration enables the handler to effectively reach deep into a vessel's hull for port applications.
The new 55-mt (120,000-lb) class high-capacity Fuchs® MHL370 F handler boasts a reach of up to 18 m (59.9 ft), giving the North American market a much needed machine to fill the production demands of large, high-volume scrap operations processing material with mega shredders. The MHL370 F delivers increased lift capacity over the smaller Fuchs® MHL360 F material handler, while an elevating cab provides a maximum eye-level operation of 6.1 m (20 ft) and independent cab forward movement of 2.2 m (7.2 ft), which is critical for port applications.
Fuchs also introduced to a global audience at IFAT upgrades to its wildly popular MHL320 F handler, designed as the perfect entry level unit for recycling, solid waste and small scrap operations who need the high lift capacities at extended reaches, efficient sorting capabilities and fast trailer loading/unloading only delivered by purpose-built handlers. Additionally, the business segment unveiled the new purpose-built Fuchs cab design at ISRI that will hit the market in the fourth quarter of 2016. The sleek new cab design incorporates more glass to advance visibility, new joystick steering control for improved maneuverability and a revised interior for more space and greater operator comfort.
Busy Application Center
Another cornerstone to the Terex growth strategy for the material handler product line is to make more use out of the Fuchs Application Center at the machine manufacturing facility in Germany. It's here where Fuchs team members work closely with customers to design one-off handling solutions to meet specific application needs.
Beyond the standard product line offering, Fuchs gives customers the opportunity to optimize and adapt the material handlers to meet the specific needs of the application. A complete team consisting of Fuchs distributors, sales representatives, engineers and technicians work closely with the customer with one common goal in mind: custom design a machine for the best fit to a specific niche need of the customer.
Fuchs material handlers are built with standardized components as the foundation of a modular system that allows engineers to design a wide variety of machines that offer the same durable and efficient operation that customers have come to expect from standard Fuchs machines. In addition to the model's standard options, the Application Center can build a machine with either a wheeled or crawler undercarriage. The diesel engine can be replaced by an electric engine with cord length adapted to the customer's needs. A pylon riser of varying lengths – popular for port applications – can be added between the machine's upper and lower carriages for enhanced visibility. Additionally, if a stationary model is the best fit for the customer, the upper carriage of a handler can be adapted for stationary applications through the Application Center.
"These are exciting times for the Fuchs business," comments de Vries on the Fuchs expansion and growth strategy backed by Terex. "We are significantly strengthening the Fuchs team, increasing local support by growing our distribution network, broadening and updating our purpose-built handler line for the market, and customizing our equipment to meet specific application needs for our customers. It's a good time to be a Fuchs material handler customer."
Weitere Informationen: Terex Fuchs Website
( © Fotos: Terex )
---
---
1
Report Bauforum24 News